For the fourth year in a row, Douglas County, Colorado ranks in the top ten happiest Counties in the United States.
A recent study by smartasset has ranked Douglas County as the No. 8 happiest place in all of America.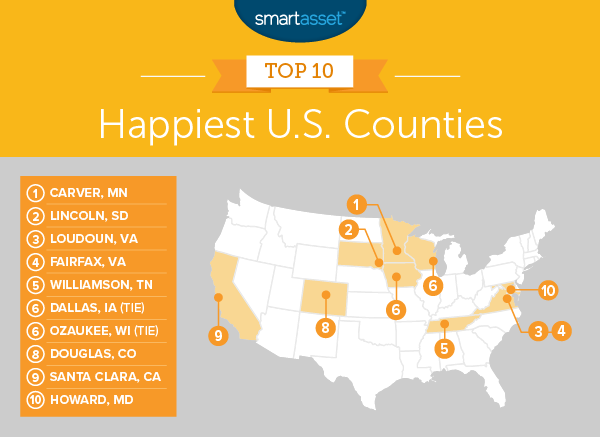 The financial technology firm collected data on 980 U.S. counties with populations of at least 50,000 and compared them across eight metrics: marriage, divorce, poverty, ratio of income to cost of living, physical activity, personal bankruptcy, unemployment rate, and life expectancy.
To find the happiest counties, we looked at factors that enable people to enjoy life –  things like having financial security and good health," said A.J. Smith, Vice President of Financial Education, SmartAsset.  "We also analyzed data that included median income, life expectancy and physical activity," she concluded.
"Few counties take physical activity more seriously than Douglas County residents," states the smartasset report. "Nearly 90% of residents here get an adequate amount of physical activity. One reason residents here are so physically active is because of the access to state parks in the area. The Castlewood Canyon State Park, Chatfield State Park and Roxborough State Park all fall within Douglas County.
"But there is more than just nature in this county," stated the report. "Residents here also tend to do well economically. This county has the sixth-highest income-to-cost-of-living ratio and an unemployment rate of 2.8%."
To see the full rankings and criteria, visit https://smartasset.com/mortgage/happiest-places-in-america-2018-edition
Be among the first to receive news as it happens. Sign up here and select your specific news focus and delivery preferences.